My stitching mojo has sadly disappeared. I feel like stitching on a project, add in a strand or two, and then don't feel like stitching anymore.
I have been doing bits and pieces. No photos today, but I have almost finished part 1 of Chatelaine's Sleeping Beauty/Anniversary sampler, and another spot or two on Weihenburg's spot sampler SAL from 6 years ago.
To try and reignite my passion for stitching, plus the fact that they are trying to push through GST on packages valued more than $20, which sucks, I have done a big cross stitch order.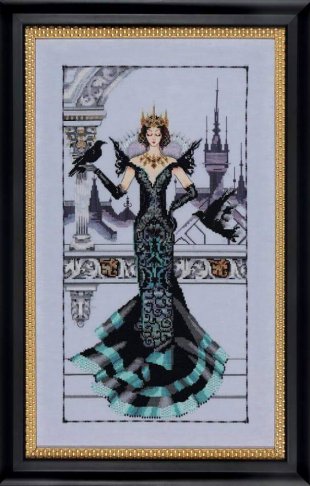 Raven Queen! Isn't she fabulous. I also orderd the Bewitching Pixies. I think, when theya re all stitched up, they will look fabulous together.
I want to buy the Nora Corbett La Petite Mermaid collection as well. I will get around to stitching them eventually…
But in the meantime, I am thinking about a new house and new job…. Fantasy land is fun!